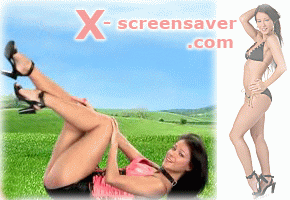 X-Screensaver produced high-quality screensavers for Windows 95/98/2000/Me/XP computers. We released several collections of screensavers including Top World Sexy Models, Hot Bikini, Ladies For Your Desire, Nude Blondes and Dirty Brunettes, Sexual Exotic Girls, Original Erotic Art, Sexy Comics, Real Sexy Beauty, Glamour Supermodels, Fantastic Women, Sexy Girls and Sexy Cars, Hot Sport Cars, Beautiful Movie Women. And many interesting titles base in the development. We regularly add new screensavers and update our existing screensavers.
Let's download sexy babes from Download Page Right Now!
You can to subscribe the "X-Screensaver News" and You be get fresh information on our products. See a form below
Do you have your own web page? You can place one of our link buttons on it! Link to us.